Home Learning
February 2021 Home Learning
Dear Parents/Carers and all our young people,
Teachers have been working very hard providing onsite provision, whilst also creating recorded lessons and setting work for our young people who are learning at home as part of our blended home learning offer.
Please navigate to your class page from the menu on the right hand side of this page or below (if working on a mobile device) to access your home learning.
If you need access to technology, resources or printed work packs delivered, please contact your form tutor using the email address below.
Thank you for your continued support during these unprecedented times.
Top Tips for Parents/Carers
Help your child prepare a daily and weekly timetable. It may help to follow the usual school timetable but perhaps working to the child's preferred hours.
Give your child encouragement. These are challenging times. Such a sudden change will be unsettling for many children.
If your child gets stuck on a topic, see if you can offer practical solutions, such as finding a website with further information.
Encourage your child to email their teachers if they need help that you can't provide.
Review your child's progress daily. Make sure they are sticking to their timetable, are not cutting corners and are producing work to the standard of which they are capable.
Your child may complete their work more quickly while schooling at home. So reward them with time off to do an activity they enjoy such as kicking a football in the garden or watching a favourite TV programme.
An example of what a daily schedule may look like at home: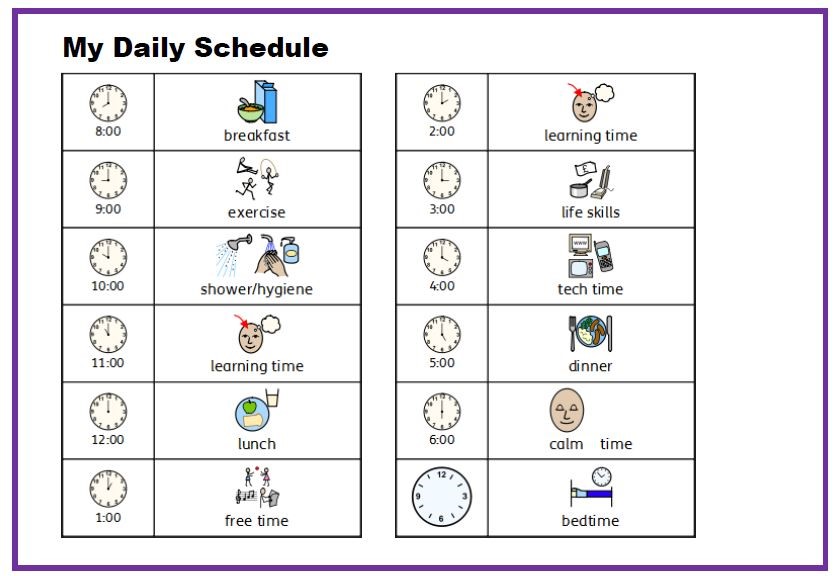 If you would like to have a go at creating your own schedule, the symbol software is available to download free for 21 days via this link https://www.widgit.com/support/inprint3/trial.htm
Further Working at Home Resources
To further support our young people who are currently not in school, our subject specialists have created the list below of online links.
For some links, the learners have their own individual logins and work is set by class teams. If a login is needed, please contact the school office.
Learning resources for every subject can be found here:
https://classroom.thenational.academy/
Literacy
https://tarheelreader.org/ a collection of free online books.
https://www.booktrust.org.uk/books-and-reading/have-some-fun/ - free online books and videos, you can play games and test your knowledge in the book themed quizzed and even learn how to draw!
Maths
https://www.mathplayground.com/math-games.html
Science
http://www.sciencekids.co.nz/gamesactivities.html
https://www.turtlediary.com/games/science.html
Computing
https://hourofcode.com/uk/learn
Music
https://musiclab.chromeexperiments.com/Song-Maker/
Art
https://flamingtext.com/logo/Design-Graffiti-Burn
https://www.graffiticreator.net/
Cognition and learning
https://www.braingymmer.com/en/
https://www.stylecraze.com/articles/simple-brain-gym-exercises-and-its-benefits/
https://www.brain-games.co.uk/Brain+Games
https://www.typing.com/student/games
Educational programmes.
https://www.bbc.co.uk/programmes/m000f0zf My World
https://www.bbc.co.uk/programmes/genres/learning
And of course, there is always https://www.bbc.co.uk/bitesize which covers every topic for every year group!