Careers
Careers Information
Venture Academy recognises and adheres to the careers practice as stipulated in Section 42A & 42B of the Education Act 1997 which requires governing bodies to ensure that all registered pupils at the school are provided with independent careers guidance from Year 8 (12-13 year-olds) to Year 13 (17-18 year-olds).
Careers Education, Information, Advice and Guidance is an entitlement for ALL of our young people from Year 8 onward. In working on the "Presumption of employability for all," it is imperative that our learners are well equipped and prepared for this.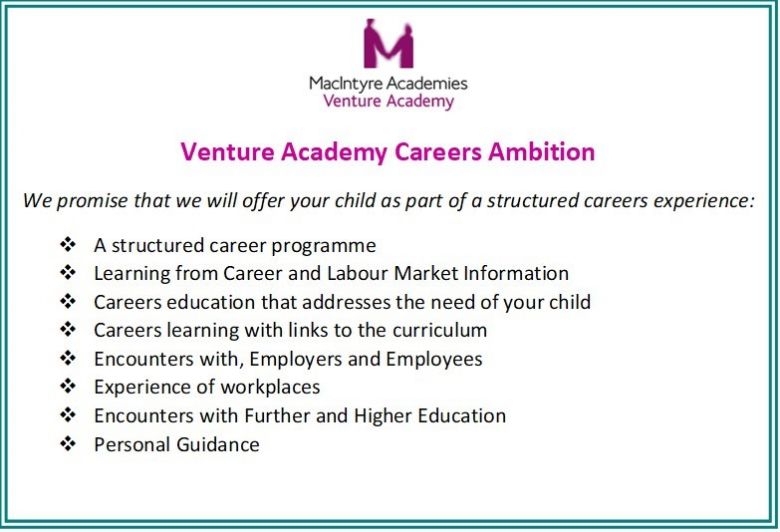 The Gatsby Benchmarks
January 2018 saw the introduction of new statutory guidance for careers. The eight Gatsby benchmarks that underpin the statutory guidance are shown below and we measure the impact of our provision against this through the use of the Careers Compass Tool:
A stable careers programme
Learning from career and labour market information
Addressing the needs of each pupil
Linking curriculum learning to careers
Encounters with employers and employees
Experiences of workplaces
Encounters with further and higher education
Personal guidance
For more information on the Gatsby Benchmarks please see the documents at the bottom of this page or visit their website https://www.gatsby.org.uk/education/focus-areas/good-career-guidance
Careers Advisor
Venture Academy has recruited the expertise of Mel Adams who is an experienced Careers Advisor. Mel provides 1:1 careers interviews with our young people from year 9 and upwards. She has a wealth of knowledge about local and residential colleges and the courses they provide. Through Mel's person centred approach an action plan is put together for each young person and shared with parents/carers.
It is the aim of Venture Academy that all our young people should leave the school at age 16 safe in the knowledge that they will be accessing either a local college course, a training provider, an apprenticeship or a supported internship.
Review of Careers Offer
The review of our careers education offer is a regular feature of our provision. This takes many forms but includes a yearly strategic development plan, shared practice conversations with other schools, reviews of the requirements of the Gatsby Benchmarks to ensure we are exceeding expectations wherever possible and the use of our Careers adviser for external validation. Furthermore, pupil voice plays a significant part in the shaping of our provision and evaluations of such opportunities as careers interviews, presentations and resources are gathered from our learners, analysed and used to drive improvement.
Careers Lead
Our careers lead in school is John Anderson, Assistant Principal who can be contacted by calling the school on 01564 792514
Please click on the pages on the menu on the right hand side of this page for more information about careers and links to useful websites, local colleges etc.